Blog
Top Wire Dispensers for 2023
Bryston Waffle
Posted on 9th August 2022
There are usually about 99 different problems on a job site but pulling the cable off one of the many wire dispensers Rack-A-Tiers has to offer certainly ain't one. Whether you are pulling multiple small single conductors, lumex, bx, or even large multi conductor teck, Rack-A-Tiers has the wire dispenser rack for you. These are the Top Wire Dispensers of 2023 from Rack-A-Tiers.
 First on the list, the wire spool rack that started it all, and probably the number 1 cable reel stands for all areas in the electrical industry. They're great on residential, commercial and industrial sites (especially service calls) 
RACK-A-TIERS WIRE DISPENSER
The Rack-A-Tiers Wire Dispenser is first on the list and is probably being used in the field even as you are reading this. This tool is versatile, waterproof, rustproof, rugged, and very reliable. It even locks together to make a comfortable seat! It can hold multiple reels up to 34 inches at the same time and is rated for 330lbs! Tough to find any cons about this product. The only con is if you're having to pick up and move multiple reels to pull at multiple locations, you have to pick up and carry the setup. This brings me to number 2 on the list 
E-Z ROLL WIRE REEL RACK
This product is a "reel" back saver as it comes with wheels! This wire spool holder is amazing for large new construction job sites and Reno's. Slide multiple reels onto a piece of 1-inch pipe, or even your pipe bender, slide on your E-Z roll wire rack onto each and you're done! The wheels allow you to easily move from location to location without having to break your back or disassemble and reassemble every time. It can hold up to 150lbs and up to 18″ reels. The E-Z roll wire rack is an amazing time and body saver, and rightfully earns its place at number 2 on the list. 
Cons
Holds slightly smaller reels than the Rack-A-Tiers wire dispenser, with less weight. With the exception of the Big E-Z wire rack, the Big E-Z utilizes the same design and great features as the original E-Z Roll while allowing you to dispense larger wire spools. With a 300 lbs rating as well as being able to hold reels up to 32″, you really can't go wrong with either.  We're not done talking about the E-Z wire rack dispenser just yet. Increase the number of reels you can pull, as well as an increase in with capacity with the E-Z roll multi attachment! This third pair of legs is a great addition to the E-Z roll family. 
Buy the EZ Roll from Rack-A-Tiers
WIRE SPOOL HAND CART
Next up for reel jacks is the Wire Spool Hand Cart. With the ability to hold up to 8 5-inch reels, or 4 6-8 inch reels, this makes pulling x-link and other small single conductors a breeze. The unique shape makes it great for picking up and transporting. Rated for 80lbs, you should have no trouble wiring PLC's or feeding through conduits.
Buy the Wire Spool Hand Cart from Rack-A-Tiers
THE STICK
This next product is a one-of-a-kind cable dispenser. If you rough in houses and commercial buildings, this is an additional must-have tool. The Stick is a single rod with a uniquely bent end that can attach to any standard stud. Works great in new construction, renovations, and my favorite, attics and crawlspaces. As I wouldn't recommend setting up a normal reel dispenser on the drywall ceiling while in an attic, The Stick is the best way for pulling cable in tight locations. 
Buy The Stick from Rack-A-Tiers
WIRE TUB
Oh, you don't like using reels of wire? Well, Rack-A-Tiers STILL has you covered.  Third on the list is the Wire Tub. Which allows you to pull coils of wire rather than reels. The Wire Tub allows you to easily dispense and rewind wire. Don't waste a single foot of wire — rewind it in the Wire Tub and get ready for installation! The large diameter of 24″ allows you to pull large cable coils easily. 
Definitely, the best-in-class product when it comes to coil pulling tools. 
Buy the Wire Tub from Rack-A-Tiers
CADDY MAC #1
If you're pulling multiple hots, neutrals, grounds, and switch legs all at the same time, the Caddy Mac is the reel dispenser for you. The Caddy Mac #1 can hold up to 8 reels of wire! The wire is dispensed while lying flat. 1/2″ solid spindles are attached to the cart, with no loose pieces. Spindles lock in place, even during transportation. Spindles swing out to set position for convenient loading of wire spools. It doubles as a dolly and has wheels for easy transport, folds flat for easy storage, and is rated for 200lbs! The Caddy Mac is one of the best multi circuit wire dispensers on the market. 
Buy the Caddy Mac #1 from Rack-A-Tiers
CADDY MAC #2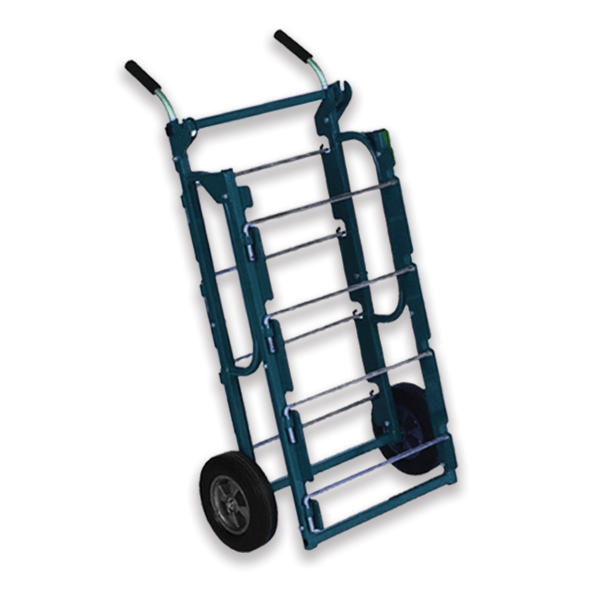 Now, of course, the Caddy Mac has a bigger and meaner brother, The Caddy Mac #2.  The Caddy Mac #2 has all the same features as the Caddy Mac but can hold between 16 and 24 reels of cable and is rated to hold 400lbs! Now that's ALOT of circuits that can be pulled in one go. 
Buy the Caddy Mac #2 from Rack-A-Tiers
REEL MACS
Multiple small conductor circuits not in your scope of work? Well, Rack-A-Tiers STILL has you covered yet again! First on the list for big boy wire spool stands is the Reel Mac. With the ability to hold reels up to 96″ in diameter and 2500lbs of weight! Use them in industrial and commercial settings for all your big teck cables, high voltage, large control or CAT6 cables. Even smaller reels have no problem sitting on top of these beauties. These are ideal for almost any sized reel and work incredibly well with pulling cable for outdoor underground work such as dip services. With adjustable heights, these reels will tackle any type of terrain and make a potentially crappy job, a little less crappy. 
Buy the Reel Mac from Rack-A-Tiers
SPOOL MAC
Rolling large reels all over the job site getting you down? The Caddy Spool literally carries the burden for you! Similar to the Caddy Mac, it has wheels on the back similar to a dolly. Allowing you to roll around site in style and comfort. It's able to hold reels up to 40″ and 350lbs. Making this a must have tool for big reels at multiple location-type jobs. 
Buy the Spool Mac from Rack-A-Tiers
RACK-A-TIERS XL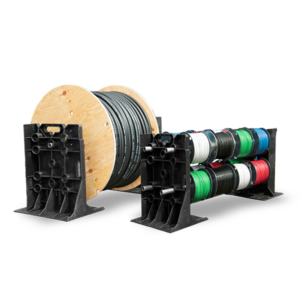 That's right, our best-selling wire dispenser is now available in a bigger size. Rated to handle reels weighing 500 lbs. or with a 40″ diameter, this thing is seriously heavy-duty. It has all the same genius features that you know and love from our original Rack-A-Tiers wire dispenser. Use it as a pipe vise, conduit carrier, sawhorse, or seat for when you want to take a load off. The Rack-A-Tiers XL can take an absolute beating and survive without a scratch because it's made of the same durable material as the original Rack-A-Tiers. If you own the original you should get an XL to complement it, because you know what they say: bigger is better.
TUG WISE
Have you ever heard of a wire dispenser rack that doesn't require the use of an Axel? Well last on the list is the Tug Wise. One of the most unique wire dispensers Rack-A-Tiers has to offer. This lazy Susan inspired is one of the most easily stored and convenient products on this list.  All you need to do is screw it to the base of your reel, flip the tee over, and start pulling! This is a great product for industrial and commercial applications as it works best on a flat service. (Life hack alert: attach it to your reel before loading it into your truck and pull it straight from the box of your pick-up!) no loading or unloading massive reels! The standard model supports up to 1000 lbs, the Superior covering up to 4000lbs and the Extreme supporting reels up to 6000LBS!
Buy the Tugwise range from Rack-A-Tiers
I've only listed a few, but as you can tell, Rack-A-Tiers has you covered for the Top Wire Dispensers of 2023 when it comes to electrical wire spool holders. They all serve a purpose depending on what you're doing that day.  Whether you're in an attic, a mill, a grocery store, a school, or in the sun, Rack-A-Tiers offer a product that makes your life a whole lot easier.