Blog
Bend 500MCM In Tight Spaces-Bend-All Cable Bender
Abraham
Posted on 21st March 2023
I love new tools, especially if they make my work easier, faster, safer or more profitable. That is why last week I started a series telling you about some of my favorite toys. Yes, I said toys. Let's face it we are all big kids at heart. You give me a new tool and the first thing I will do is bump my guys out of the way so I can try it first. I won't tell you this always endears me to my crews but being the boss has to have some advantages. ;) Today we're talking Rack-A-Tiers new cable bender, The Bend-All.
Cable Bending
In my younger days working in the field, the one job I always dreaded was terminating cables in an enclosure. It was just one of those jobs that never seemed to get any easier. There was never enough room to get my hands where you had leverage. The cables always wanted to flex or kink in the wrong place and if I used pliers or wrenches to get leverage I was gambling on damaging the insulation. Something I never could live with.
I will admit that I probably lost more skin and doctored more cut hands from doing these terminations than any other single job. That is why I was so excited when I discover the Bend-All.
@leezack1986
How to Use the Cable Bender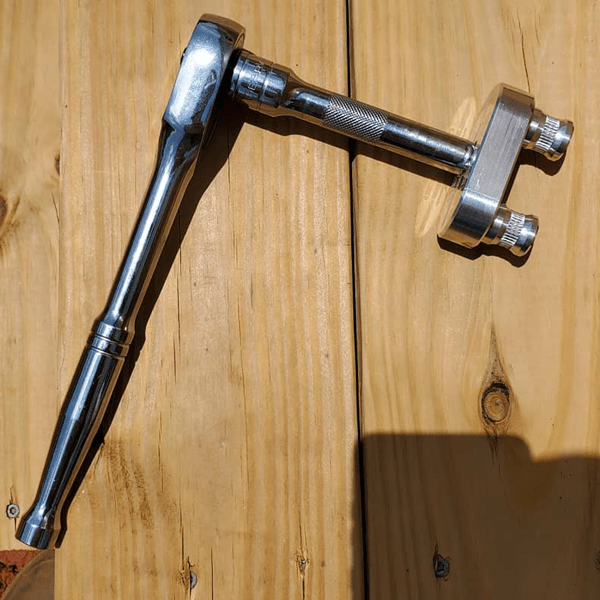 The Bend-All cable bender is made to fit on the end of any half-inch ratchet or breaker bar. This gives you all the leverage you need to muscle cables into shape, without having to strain your muscles.
This  tool captures the cable and holds it fast. Allows you bend it forward, backward, left, or right as easy as having a number 12 in your hands, all while working inside an enclosure.
Feeders will lie flat in the lugs, ready to be tightened down, you won't have grated knuckles to bandage and the cables insulation will be unmarred. A win, win, win.
A Cable Bender Built to Last
One other point I would like to make about the Bend-All is that its rugged construction and simplicity of design has made it one of the most durable tools I have ever given my guys to work with and thanks to its ease of use they do actually work with it instead of leaving it in there tool bags.
Made from machined aircraft aluminum, the cable bender is the perfect combination of strength and durability. Best of all, it's easy to use. The Bend-All attaches to the end of any ½" ratchet and does the hard work inside tight spaces for you.
Just because you work with your hands doesn't mean you have to bust your knuckles to get the job done. When you need to work in confined spaces, the job becomes tougher and more stressful. With the Bend-All from Rack-A-Tiers, you can take the physical stress out of the job.
Overall Rating
On my usual scale of one to ten I give this one a nine. This cable bender works, it is simple enough to use that it gets used, it never seems to wear out, and it keeps my guys from going home with cut fingers and ripped knuckles while improving the speed and appearance of their work.
Again this week I have to deduct at least one point because it can't make coffee. I really wish someone would add this necessary feature. I like my coffee.
Be sure to check back in next week to see what other wonderfully innovative tools we have to share with you.