Blog
Protect Your Hearing and Enjoy the Workday with Plugfones!
Sean Jones
Posted on 27th November 2017
Hopefully the exclamation point in our title wasn't necessary for you to hear us, but it makes a nice point. Do you have older relatives you have to shout at because they've lost their hearing with age? Surely, you've at least noticed how grandparents and older aunts/uncles tend to listen to the television at deafening levels. Well, just because you work in the trades doesn't mean you have to put your hearing at risk. Ear plugs are a common sight on the job site. Smart workers wear them to ensure they don't become one of those lovable old folks.
However, the 21st century has brought a lot of advances in technology. Why is it that we're still stuffing foam earplugs in our ears then?! Now you have a better choice with the Plugfones. These crafty earplugs come in five different series, and do more than protect your hearing. While you protect your ears from the loud noises, you can drown it out with your favourite music too! Learn all about the Plugfone series here!
Freedom Series
The Freedom Series of Plugfones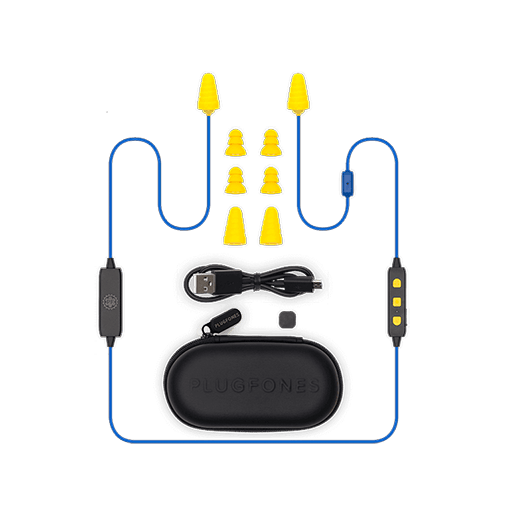 is an industrial-grade wireless set of earplugs. They use Bluetooth 4.0 technology to connect to your devices with a range up to 33-feet away. Each one includes ComforTwist foam and ComforTiered silicone plugs. This means they're easy and comfy to put in your ears. There's an IsoTalk noise isolating microphone so you can also answer calls. The Freedom Series has a battery life of 12 hours and features SoundSeal noise-suppressing technology.
Freedom VL Series
The Freedom VL Series has all of the features you'll find on the Freedom Series introductory Plugfones covered above. What sets this one apart is the addition of Volume Limiting technology, hence the VL in the name. The VL models keep speaker volume in the early plugs below 82dB. This maintains sound levels that are compliant with OSHA maximum volume guidelines.
Protector Plus Series
The Protector Plus Series shares a lot of functions and features with the Freedom Series. Each one features SoundSeal noise-suppressing tech, ComforTwist foam and ComforTiered silicone for the plugs. There are two big differences between the Protector Series and the Freedom Series. First, the Protector Plus is not wireless. Second, they offer stereo-to-mono adapters.
Protector Plus VL Series
With the Protector Plus VL Series
you get all of the features listed above with the standard Protector Plus. Again, these are wired earplugs and not wireless. They also feature the stereo-to-mono adapter. Like the Freedom VL Series, the Protector Plus VL Series has volume limiting technology. You will not be able to turn up the sound beyond 82 dB. This, again, keeps the earplugs compliant with OSHA maximum volume guidelines.
Protector Series
At the baseline is the Protector Series. These earplugs and headphones have SoundSeal technology, ComforTwist foam and ComforTiered silicone plugs. These have stereo-to-mono adapters and, like all other earplugs, a tear-resistant TuffCord.
Keep Your Hearing
You don't have to settle for boring earplugs. Protect your hearing with Plugfones, and enjoy some tunes while you're at it. Hey, we won't tell either if you use them at home. Sometimes you just want to ignore the kids as they argue, right? Be safe out there!