Blog
Carry it All with Ease on the Caddy Mac
Sarah Burnside
Posted on 12th February 2018
If there's one thing no one enjoys, it's hauling around a bunch of stuff. Whether you're talking about diaper bags and strollers for kids, or all your work equipment on the job site, it's just not fun or easy. Thankfully, Rack-A-Tiers has you covered once again. Electricians know the pain of hauling around spools upon spools of wire. If you're working on a big install, you could have countless spools of different sizes. Lucky for you, the Caddy Mac series of spool and spindle transports makes it all easier to do.
As you shop around on Rack-A-Tiers, you'll notice we have two different Caddy Macs. If you need a simple spool hauler, Caddy Mac #1 is your choice. Want to take it up a notch? Look into the Caddy Mac #2. No matter which one you pick, this is a piece of equipment you want in the truck. Learn more about both products below!
The Caddy Mac #1
The entry model, if you want to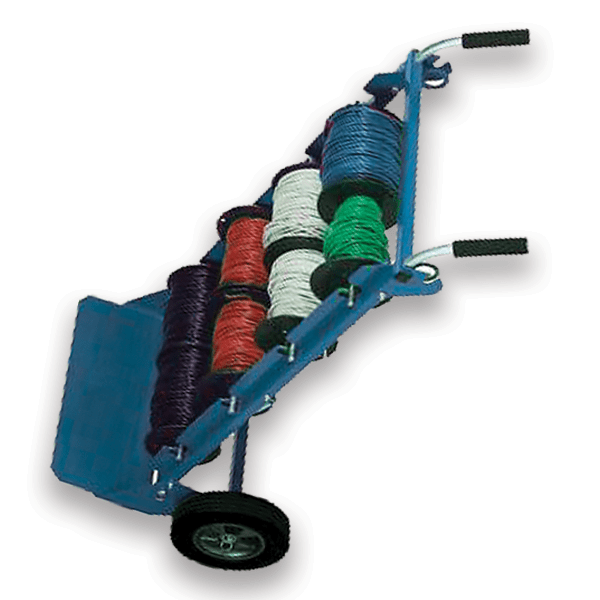 call it that, is the Caddy Mac #1. This multipurpose tool is ideal for transporting spools and spindles. The Caddy Mac can handle a wide range of spool sizes, and features wire guides. These wire guides offer easy, smooth feeding from the spools. Each one includes a patented spindle locking system. During transport the spindle locking system keeps your individual spindles and spools in place without shuffling around.
A Caddy Mac #1 comes with ¼" solid spindles attached, and no loose pieces. The spindles wing out to a set position for easy loading of wire spools. If you take a close look at the Caddy Mac #1, you'll notice that it has two top handles, a short, flat extension on the bottom, and two rugged tires. If it looks like a dolly, that's because it also serves as a dolly when not in use as a spool caddy.
The Caddy Mac #2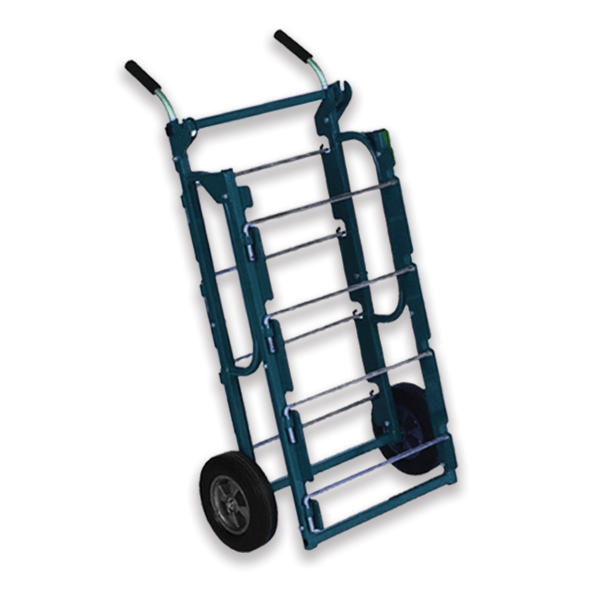 If you have a bigger job or simply want to accommodate more wire spools, the Caddy Mac #2 is your pick then. Just like the Caddy Mac #1, you will fit a wide range of spool sizes. The wire guides for smooth feeding from each spool, patented spindle lock, and ¼" solid spindles all come included on the Caddy Mac #2. You'll also get spindles that wing out for easier loading of wire spools and special storage loops. These loops ensure your spools don't fall out, even during transport.
Now, there are some differences between the two options. From a physical standpoint, you'll notice two things. The Caddy Mac #2 doesn't have the flat extension at the bottom, so you won't be using this on the side as a dolly. That might be a drawback for some. However, there's a positive. The Caddy Mac #2 also folds out like a sandwich board for sturdy, upright use. The folding nature of the Caddy Mac #2 also enables you to fit more spools. You can accommodate 16 to 24 spools onto the Caddy Mac #2. The only limit to the number of spools is the size you're using. Even though it folds open, the Caddy Mac #2 still folds compactly shut for easier storage.
Save Time and Space
Electricians all have their own opinion, but there's a general rule of thumb among many that you'll need 1′ of wiring per square foot of a home. If you want to haul around a couple thousand feet of wiring easier, the Caddy Mac #1 and Caddy Mac #2 are ready for the job. Heck, you got other stuff to haul around? Take advantage of the dolly feature on Caddy Mac #1 and make it work double time.
Get Yours Today
Rack-A-Tiers proudly carries both the Caddy Mac #1 and Caddy Mac #2 in stock today. Streamline your work, and keep those wires clean and tidy. Get one of these Caddy Macs for easier wire transport and unspooling so your next job goes faster!