Blog
Get Jacked with The Real Jack by Reel Mac
Sarah Burnside
Posted on 19th February 2018
Working in the trades can be tough on the body, and it never hurts to spend a little time in the gym taking care of your body so you can get through the workday. But this isn't a fitness blog, so that's not our focus. When we tell you to get jacked with The Real Jack, we're talking about the lineup of Reel Mac reels that help you quickly and easily load spools on the job site. You get a heavy-duty tool with the Reel Mac series. One that can keep up with your demands and not fail when you need it.
The Reel Mac is available in three different sizes. Each individual Reel Mac is sold as a single unit. If you want a set for the worksite, you'll need to order two Reel Macs. When you have a massive wiring job that requires big spools, The Real Jack is all you need to get it done.
Meet the Reel Macs
The series of heavy-duty spools known as Reel Macs are tough products. In fact, they're so tough that most have given them the nickname "The Real Jack." Call it the Reel Mac or call it The Real Jack, we don't really care. What we care about is getting you the right tools for the right job. When wiring jobs require heavy lifting and thousands of feet of cable, you want the Reel Mac in your inventory.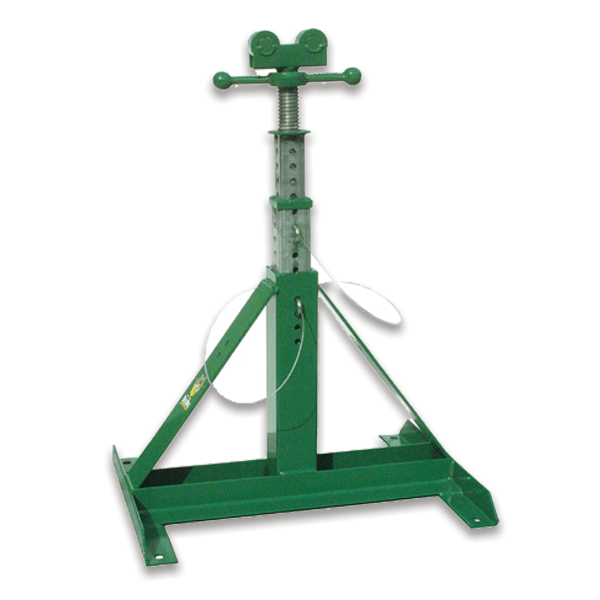 Each Reel Mac is built on a steady base, with a single pole up the center. The Reel Macs have a telescoping arm that swings the wire spool in the direction you're pulling. Each one has self-lubricating roller bearings. You won't ever have to stop and grease the telescoping arm on the Reel Mac. There is a quick-action lock washer. This enables you to quickly lock the arm in place, so it is not swinging around wildly while you work.
Reel Macs come with a fall guard feature that reduces pinching in use. The one-bolt assembly of the Reel Mac means it comes apart quickly for service. Better yet, there's no need for welding. So you can take it apart and put it back together with less hassle and time. The Reel Macs are available in the following sizes/capacities:
#60 – weight capacity of 2,500 lbs and a reel diameter from 26″ to 50″
#70 – weight capacity of 2,500 lbs, with a greater reel diameter range of 49″ to 96″
#80 – highest weight capacity at 3,750 lbs and a reel diameter up to 90″
Efficiency and Safety
The Reel Mac's primary purpose is making your workday more efficient. Rather than fumbling with numerous smaller reels, you can safely use larger reels. The Reel Mac is designed for heavy loads. The main goal is to run out line without wasting your time. Reel Macs are fast and efficient in this respect. The quicker wire and cable go out, the quicker you get the job done.
Reel Macs also contribute to safety at work, believe it or not. Whether you're using the Reel Mac for larger spools or a smaller Rack-A-Tiers wire management product doesn't matter. What you're doing with these tools is helping keep the workplace clear of clutter. Countless spools and reels sitting around can be dangerous. Loose wires and cables from spools are even more dangerous. Both pose a threat for slips, trips, and falls.
Did you know that 65% of fall-related injuries in the workplace result from obstructions in the walking surface? Same-level falls, where you simply trip on something in the way, are the most common. Manufacturing and other trades account for 16% of all same-level falls. Don't become a statistic. Avoid getting hurt. Get Reel Macs and keep the job site clean!
Find it on Rack-A-Tiers
It's our job to make your job easier. Rack-A-Tiers is happy to sell Reel Macs to working people across North America. Don't be afraid to check out our full lineup of products at anytime!