Blog
Quickest Way To Remove Staples From Electrical Wires
Abraham
Posted on 26th December 2022
As you have often heard me say, one of the wonderful things about working in trades is that you get to work with and meet some of the most ingenious people. People who come up with solutions to the problems they face everyday.
Unlike tools that are developed by professional engineers the tools tradesman come up with are generally simple and rugged rather than being overly complicated. I'm not dunning engineers it is just that they tend to come at things from a different angle than tradesmen. Overall we are a simple bunch so we look for simple solutions.
The tool that I am going to tell you about this week is a classic case in point. It was invented by Joe Sousa a man that has been in the trade for 22 years. He saw a need and found a solution and now we can all benefit from his ingenuity. The tool Joe invented is the Staple Shark.
The Staple Shark
The Staple Shark is another one of those wonderful multipurpose tools that not only serves its primary purpose but also fills other roles, saving us room in our kits and weight on our hips.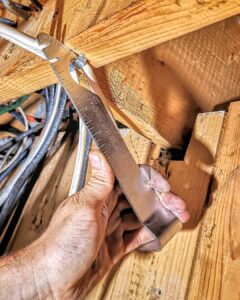 As you can probably guess the main purpose of the Staple Shark is to pull stubborn cable staples and it does a wonderful job in this role. It is long enough to provide all the leverage that you need but short enough to carry in a pouch. As a bonus, it also does duty as a flat pry bar (great for removing trim), nail puller and in a pinch, a bottle opener. They even had the foresight to include a handy ruler etched right into the side of it. That is five different tools in one compact little package.
Made of tool steel the Staple Shark is made to give years of service just like you would expect from a tool designed by one of our own.
Inventive Ideas
As I said in the opening we tradesmen tend to be an inventive bunch. We, by the nature of our work, are problem solvers. It is just what we do and most of the time we never even think about how the little things we come up with can be of benefit, to others in our trade, much less about whether they could be profitable to us personally.
That is why I applaud people like Joe Sousa and all his other brother inventors out there. They are the energy that keeps us moving forward. They are the ones who make our jobs easier with their ideas and they not only have the ideas but the heart to go through the trials that it takes to bring them to us.
Helping Inventors
That is also why I applaud companies like Rack-A-Tiers. I know I don't normally give direct mention to them by name but they provide some of the most innovative tools out there because they are willing to help everyday people bring their ideas to life.
If you have a new product or just an idea, you can contact them and see how they can assist you in developing your idea. You have nothing to lose and may just help make all your brother electricians lives a little easier.
Until next time, keep the coffee hot, the beer cold and don't forget to check us out at @rackatierstools on Instagram and TikTok.
Buy the Staple Shark from Rack-A-Tiers