Blog
Smoothly Cut Recessed Lights-RevBit Reverse Pilot Bit
Abraham
Posted on 9th March 2023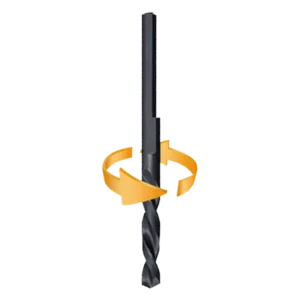 Welcome back everyone. It's me again, back to bring you another dose of wit and wisdom or at least some bad jokes and good ideas. Last post, I tried to stress the importance of marketing and advertising in building a business and keeping it going. I hope you took away some valuable ideas that will help you reach your dreams.
This week, I am going to tell you about another wonderful tool that we use on a regular basis and explain what makes it such a wonder.
Like many of the innovations that you find in these posts, this one is KISS simple but can make your life much easier and save you money.
Sore Wrist and Broken Teeth
No I'm not talking about the last company picnic or that time you forgot your wife's birthday. I am talking about the RevBit Reverse Pilot Bit.
We have all been through this at some point; your trying use a hole saw and as soon as the pilot bit breaks through the teeth of the saw grab and your wrist is twisted upside down. This is never a fun thing to experience and even worse; to go with your, now sore, wrist there is a very good chance that you have mucked up the teeth of the saw and scared the finish of the wall you are trying to hole. The Revbit puts and end to all this.
What Makes It Great
The main feature of the RevBit is that it is a left hand threaded bit. In other words, you reverse your drill to use it. The benefit of this is that when it breaks through the teeth of the Hole Saw are spinning backwards. They will skid rather than grab and rip the walls finish and twist your wrist.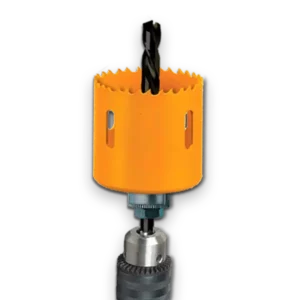 This skidding also means that it is near impossible to break or unduly wear the teeth of your saw. It is estimated that this will extend the life of your Hole Saw by as much as 10X.
All of this is wonderful but as usual the folks at Rack Tiers weren't satisfied with just bringing us an innovative idea. They had to dress it up like chrome on a 64 Cadillac. It is manufactured from high speed tool steel for toughness and then given a Black Oxide Coating to make it self lubricating and further extend it working life.
Conclusion
To my mind this is another case of going the extra mile to make something as perfect as it can be. It solves several problems that are not only common to us in the electrical trade but also to our brothers in other trade shops.
The RevBit Reverse Pilot Bit is comparable in price to other pilot bits, on the market and works with all standard Hole Saws. All you need in your regular reversible hand drill. No special adapters or tools required.
By extending the usable life of your Hole Saws by such a drastic factor and yet costing little more than standard pilot bits, this little jewel will not only pay for itself but will saving you money for years to come. I call that a winner. After all, "A penny saved is a penny earned."
Until next time, keep the coffee hot, the beer cold and don't forget to check us out on Instagram or Tiktok @rackatierstools
Buy the Revbit from Rack-A-Tiers