Blog
Are These the Best Wire Strippers?-Croc's Needle Nose Wire Strippers
Abraham
Posted on 9th February 2023
Anyone who has been in electrical contracting, for any period of time, knows that it's the little things that make or break a business.
Yes, you have to watch the big factors like the price of copper (affects wire prices) going up and down when submitting bids for future projects, but many times it is the little things, which we don't normally think about, that can make big differences.
That is what all these post are really about. Helping you increase production and profits while reducing the headaches that an electrical contractor deals with on regular bases.
As my dad used to tell me "You can work hard or work smart, your choice." Personally I prefer to work smart and part of that is another of his favorite sayings, "Half of any job is having the right tool for the job."
That brings us to this week's Cool Tool, Croc's Needle Nose Wire Strippers.
I know that Wire Strippers aren't exactly a new item. For most of us, they were probable one of the first tools we had in our bags.
But, there are strippers and then there are strippers.
Check out @purple_lightning__ demoing his Croc's!
Good, Better, Best
We all want good tools and as we learn and earn we try to purchase better tools. Croc's are what you buy when you want the best tool.
They have a unique design that can not only translate to making your work easier but also to saving you money.
Little Things Mean a Lot
I'll talk about the last part first, knowing that profit is always important.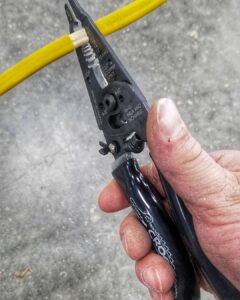 Croc's were designed with their NMSC stripper located at the very end right behind the needle nose. Why is this important?
Ask yourself, how many times a year do you or your people have to strip NMSC inside a box and how much cable is wasted because they have to stretch it outside the box to make a clean strip.
Inches quickly turn into feet when you work hundreds or thousands of boxes a year. Check prices and you'll see the point. Little things do mean a lot.
Other Great Features
Of course, this is just one of the features that set Croc's Needle Nose Wire Strippers apart from everyday strippers.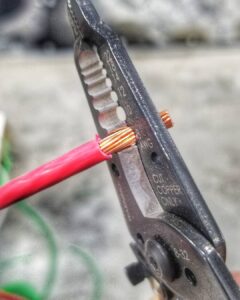 Here are a few others that have helped them become known as the best strippers on the market.
Stripes conductors from a number 10 all the way down to 22 AWG (Telephone Wire); so no more big stripper, small strippers cluttering your bag.
Serrated needle nose jaws are perfect for tweaking and working in tight places.
Large cutting blades making cuts easier with less fiddling for position.
Glow in the dark handles for working in dim light like crawl spaces.
Ergonomic grips for less hand fatigue on big jobs.
Barrel Sleeve crimper near the pivot point giving you more leverage when you need it.
Conclusion
When a tool is going to be in hand as much if not more than any other; it pays to buy the best thought out, built and designed you can find. For wire strippers that is hands down, Croc's Needle Nose Wire Strippers.
Pick up a pair and you can tell, they were designed by people that not only sell tools but have used them day in and day out, giving them an insight that other tool makers don't possess. Pick a pair of these up today for every man on your crews.
Until next time keep the coffee hot and the beer cold.