Blog
The Best Inspection Cameras for Electricians-Ferret Tools
Robert Tome
Posted on 7th March 2023
As electricians, we may be occasionally called upon to add electrical components to a previous build. Often, what is challenging about these calls is pulling our wires. When fishing cables in closed walls and ceilings, we are essentially going in blind. We have no clue what awaits behind these walls and ceilings. Likewise, we can also find ourselves having to troubleshoot, find and fix issues in hard-to-reach areas. That's where the Ferret Wire Pulling Wi-Fi Inspection Camera comes in.
Gone are the days where you incessantly twist and untwist your fish tape to get past unseen obstacles. As well as the days where you find yourself sticking your phone into a random hole to try and see what you're dealing with. All the Ferret inspection cameras work in tandem with your smartphone via the free Ferret Wi-Fi app, providing you with live 720p HD photos and videos in the palm of your hand. There are many models to choose from so let's look at the various models of Ferret inspection cameras and how they can help you see what lies ahead.
The Ferret Wi-Fi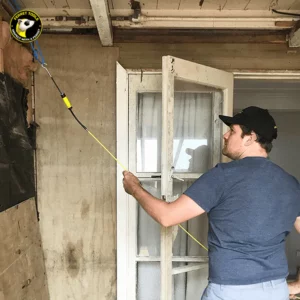 This tool allows you to inspect hard to reach places. Paired to your smartphone with its built in Wi-Fi hotspot and using the free Ferret Wi-Fi smartphone app you can record and photograph everything you see. Additionally, you can attach the included hook accessory and use the Ferret wire pulling camera to go and fetch a cable in a plenum or wall. This is your entry-level wire pulling camera and as such it comes with basic camera features. If you want more than just a wire pulling tool, and are looking for more of a wireless inspection camera/Wi-Fi troubleshooting camera- read on to see more options.
Check out @teal_tech  using the Ferret Wifi below:
Buy the Ferret Wifi from Rack-A-Tiers
The Ferret Lite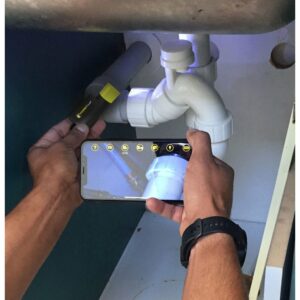 Next up is the Ferret Lite. This is a great budget-friendly option with a little more oomph than the entry-level Ferret Wi-Fi. It does exactly what it is meant to do. It goes in all the small places you don't fit in and allows you to see all that you can't. With its built-in Wi-Fi hotspot and USB rechargeable battery, the Ferret Lite is a completely wireless inspection camera with a range of up to 50' (15m). This Ferret has adjustable LED lights built into the front of the camera and it is both dustproof and waterproof (IP67).  Using the Ferret app's digital zoom feature, you can get up close and personal with the object you are inspecting. There's also a neat Always Up option to avoid getting disoriented as you head into the unknown. With this wire pulling camera, you can easily fix any issues you may find at home or work.
Buy the Ferret Lite from Rack-A-Tiers
The Ferret Pro
The Ferret Pro design keeps all the great features from the Lite model and builds on them, offering more great features and more bang for your buck. This version of the Ferret allows you to see even more details while you fish your wires. By focusing in as close as 2.5" (or 6cm) when paired with the free Ferret smartphone app. You also get improved reliability with the new super-fast charging, going from 0% to 95% in one hour, flat. This is the model of Ferret that I own and work with time and time again on residential rebuilds.
Buy the Ferret Pro from Rack-A-Tiers
The Ferret Plus
Now we get to the crème de la crème of Wi-Fi inspection and wire pulling cameras. The Ferret Plus still has all the great features from the Wi-Fi, Lite and Pro models but comes packed with extra innovations. You can record freely without being within Wi-Fi range because the Ferret Plus has an incredible 8GB of onboard memory. But the greatest innovation that the Ferret Plus has to offer comes in the form of the first-ever non-contact voltage detector built into an inspection camera. With the added benefit of being able to reach out to a cable, check for voltage at a distance, hook it with the provided accessories and then pull your wire in closer; the Ferret Plus is the ideal wire pulling and inspection camera for electricians in contact with exposed live wires.
Buy the Ferret Plus from Rack-A-Tiers
Ferret Accessories
The Ferret Wi-Fi wire pulling camera also comes with some very useful attachments to help you tackle any task you are presented with. The flexible gooseneck allows you to peak around corners. The hook attachment will help unsnag and pull wires. Drop a tool in the wall? No problem, simply screw in the magnetic head and retrieve it.
All models of the Ferret Inspection Camera come with a 1/4-20 UNC threaded base and a variety of adapters to fit most common wire fishing stick sizes. However, speaking from experience, there are fish sticks out there that will not fit even the smallest adapter provided.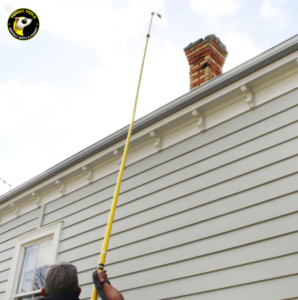 I can assure you; this is the last thing you want to find out when you are on-site and ready to inspect. To avoid this problem, I would suggest picking up the Ferret Stick. This is a very handy, very practical collapsible extension attachment. It is made of durable, lightweight stainless steel, has a rubber nonslip handle, and measures 55' (140cm) at full extension.
Maneuvering the Ferret Wi-Fi camera while holding your smartphone can be a bit tricky at times- you might feel like you might need a third hand. That's where the Ferret Wristband comes in. It frees your hands, offers full 360-degree rotation, and can hold up to a 6" smartphone.
Is The Ferret Your New Inspection Camera?
The team behind the Ferret Wi-Fi Camera have thought of everything. First, they solved a constantly recurring problem dealt with by electricians all over the world. From there they went on to add more and more features, making the Ferret Wi-Fi Camera an extremely practical and highly dependable tool. Then they went on to expand the Ferret ecosystem with high quality accessories that make the Ferret Wi-Fi wire pulling and inspection camera truly indispensable. If you're looking for a tool that will help you inspect, troubleshoot, solve issues or even fish wire in hard to see and reach places, this is the tool for you. Treat yourself to one of the Ferret Wi-Fi Cameras and see for yourself how it will make you more efficient.