Blog
The Best Electrician Tool Pouch For 2023
Tracy Kittles
Posted on 15th March 2023
As many of you know, choosing the right tool belt for electricians can be a very daunting task for most. With such a large variety of electrician belts, butt pouches, multi-tool pouches, and ventilated tool pouches, the search for an electrician tool pouch is often difficult. You will also need to decide the type of material you like best, whether a nylon or leather tool pouch. At times, you may need multiple depending on the job. If you don't need many tools for your job you could use a small electrician's tool pouch or a mini tool pouch. This blog is here to help guide you in the right direction. Allow me to help, read on my friend.
Electrician's Combo Belt
This is the most common first purchase for apprentices starting out. The Rack-A-Tiers ventilated tool belt is the most comfortable tool belt I have come across. It is the first of its kind, deemed a "Molded Air-Channel Tool Belt," delivering incredible comfort, support & ventilation for your back.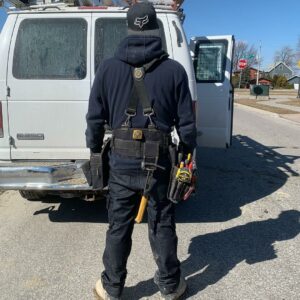 It is not only a durable tool belt but a long-lasting tool belt. Often viewed as one of the best tool belts on the market. Being a tool belt with multi-functioning pouches, it has space for all your hand tools. This includes your hammer, tape measure, and even room for a little granola bar for when that hunger strikes mid-job.
This is the best electrician tool pouch if you are looking for a tool belt with lots of pockets. With a large tool pouch on one side and a 9-pocket tool pouch on the other, this belt makes weight distribution very easily achieved.
Many savvy Electricians in the trade will often pair this belt with the molded air channel suspenders. This can prevent strain on your back and hips during your career. We all know these hips don't lie, so you'll want to take care of them. Speaking of hips, no need to worry whether you are a small or large fit in the midsection. This belt/bag combo comes in sizes 26″ to 55″ to keep all body types comfortable.
Buy the Electrician's Combo Belt from Rack-A-Tiers
Butt Pouches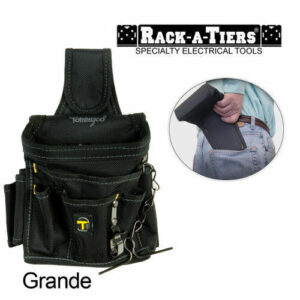 There are times, more often than not, when you don't need that many tools for your task. Butt Pouches are paramount in these situations. These come in three different sizes, the Grande, Papa Grande, and Mini Butt pouch sizes. When doing finishing work in a residential-type setting, these are great options. This is because a bulky belt is often not needed. They tuck right into your back pocket and are easily removed. The Papa Grande has space for most hand tools and is an excellent option for a tool pouch without the whole belt. These back-pocket tool pouches are made of ballistic nylon and are lightweight yet super durable.
Buy Butt Pouches from Rack-A-Tiers
The Ultimate Electrician's Max Comfort Tool belt-By Boulder Bag
This has been a fan favorite for over 20 years. This beautifully designed boulder bag is available in two colors: Black and Camo.  Nobody likes tools falling out of their belt, the boulder bag prevents this. It has 19 pockets and 13 slots to ensure you have everything you need to do your job efficiently. It also has a full range of sizes from a small up to a double XL. Comfort is always at the forefront when making the right choice. Being made of high-quality foam allows this to be a great tool belt for back support.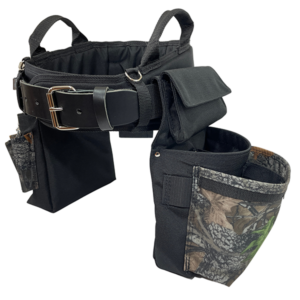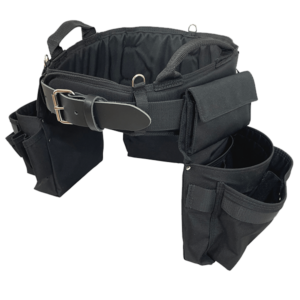 Buy the Boulder Bag from Rack-A-Tiers
Pocket Tool Tray Holder
Many Electricians like to have all their tools available to them as they work. Even though a padded tool belt or one with suspenders is a bonus to ease the weight from all your tools, a tool tray holder is an excellent alternative. The large tool tray carrier boasting 29 exterior pockets, 14 interior pockets, a shoulder strap for comfort, and a tape holder is an option. Or the small tool tray holder with 16 exterior and 9 interior pockets is another. Keeping your go-to hand tools with you in your ballistic nylon tool belt and the "extras" in your tool tray is a great option when you don't always know what you need for your job.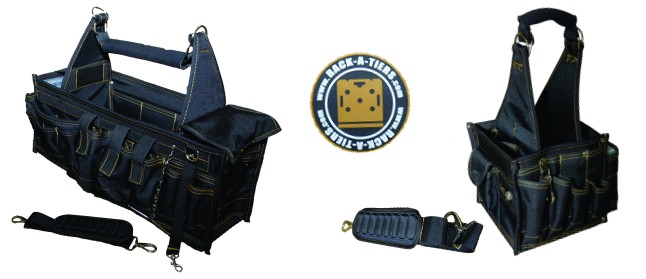 Buy the Tool Tray Carrier from Rack-A-Tiers
Snap Sack Apron
If you don't want to worry about ties or buckles and want a quick place to store those tools, the Snap Sack apron is the belt-free tool pouch for you.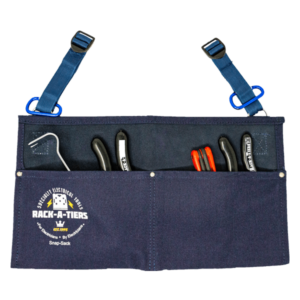 Because it is leather lined, you need not worry about being poked or stabbed by objects penetrating through the lining. It clips onto your belt loops with its carabineers, making it a quick on and quick off lightweight option. Having your tools up front in a sleek, slim pouch and easily accessible is exactly what is needed in certain situations.
Buy the Snap Sack from Rack-A-Tiers
Suspenders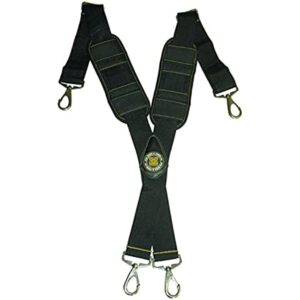 When it comes to suspenders, it's just a personal preference. When you think about the long run, they are beneficial if you're working with a full-load tool belt with both pouches maxed with tools day in and day out. Having suspenders will help take the pressure off your back and hips and really help keep your body from failing you.  Take care of your body so it will always take care of you. The Molded Air Channel Suspenders are incredibly comfortable and will allow you to work longer and harder on those heavy tool days.
Buy the Suspenders Rack-A-Tiers
Truthfully, there is no specific tool bag, tool belt, tool tray, or electrician tool pouch option to use every day. On some days the tool tray will be your best option while, on other days, a simple apron or butt bag will do the trick. . Many electricians swear by just one style simply because that is all they know or perhaps all they have been taught.  It is just a matter of what type of work you are doing and which option will allow you to be fast, efficient, and organized.