Blog
The Best Electrician's Tool Belt from Rack-A-Tiers
admin
Posted on 21st March 2023
If there's anything more important to an electrician than their tools, it's the bag and/or belt they carry equipment around with. Each new job requires a different array of tools to effectively complete the work. Rather than having to choose between carrying around a single bag on your waist or a full-on belt, get the Electrician's Bag/Belt Combo from Rack-A-Tiers.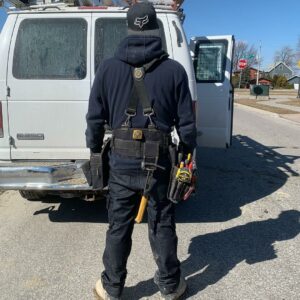 This multi-faceted product can be customized to your individual needs. Based upon a molded support belt, you can add and subtract tool pouches, hammer holster, and tape holder to fit each individual job. Learn more about this product below!
Electrician's Bag/Belt Combo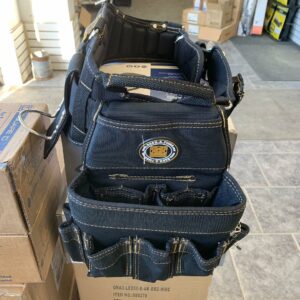 Where to start on this combo belt offering?! The Electrician's Bag/Belt combo is centered on the molded support design and Air-Channel ventilation design of the belt itself. It ensures total comfort while you're on the job site. The Air-Channel design helps keep you cooler longer, preventing sweat buildup for as long as possible by allowing air to pass through your belt. You won't have to deal with a stiff belt strapped right up against your back all day!
More importantly, the molded support of the belt design provides you with lumbar support while you're wearing the bag/belt combo. While electrical shock, burns, and falls represent the top causes of workplace deaths for electricians, repetitive stress and overexertion are the leading causes of non-serious injuries. Repetitive stress and overuse are common among electricians as a result of:
Lifting/carrying heavy loads
Working while bending or stooped
Staying in the same position for long periods of time
The bag/belt combo isn't just functional from a work standpoint, it's functional in protecting your back against stresses of the work day. This particular bag/belt combo includes several add-on pieces, such as an electrician's tool pouch, large 9-pocket tool pouch, hammer holster, and a tape holder.
@marleyharder
It is strengthened with nylon web-core interior, reinforced with bar-tack stiching, and constructed of 1250 denier DuraTek fabric. What does this all mean?
One Bag/Belt Combo to Last a Lifetime
OK, the Electrician's Bag/Belt combo won't last forever, but this thing is built tough to withstand the rigors of the job site. First off, the nylon web-core interior is designed to stretch and remain comfortable at all times, without wearing down. Nylon itself is a stretchy fiber, and remains that way when woven into nylon webbing.
This material is often used in the production of rock-climbing ropes, as one example. Nylon web-core is great absorbing energy and tension when stretched. You can pack your bag/belt combo full of weight and move around freely without worrying about the fabric on the interior failing over time.
Additionally, the bar-tack stitching lends another layer of strength to this bag/belt combo. Bar-tack is a style of stitching that is used to reinforce areas on a garment that may be subject to great stress or additional wear. For the most part, the major seams of this bag/belt combo are completed with bar-tack stitching, as are the edges of the pockets and pouches for added durability.
Last but not least, the 1250 denier fiber. Denier is a coated polyester fabric that is extremely rugged, and resist to abrasions and tears. It is commonly used for backpacks, high-end luggage, and heavy duffle bags. For a tool belt that lasts a life time, 1250 denier fiber delivers. You can toss your tools in the pouches and cram through the tightest places on the job site, and you don't have to worry about the fabric on your bag/belt combo tearing.
Don't Settle for the Rest, Get the Best
Rack-A-Tiers sells only the best in quality and function for tradespeople across North America. The Electricians Bag/Belt Combo delivers in every way. It's flexible and adjustable to hold the tools you need for each job. It's also built tough to withstand the day-to-day grind on the job site and save you money by lasting a life time. If you need a new tool belt, this the product you need to have!