Blog
The Best Ladder Accessories for Safety, Speed, and Comfort 
Evan Rowe
Posted on 15th May 2023
Let's face it, ladder work is inevitable. There may not be a stronger love-hate relationship with a shop or van item than between an electrician and their ladder. For what it's worth though, ladders usually bear the brunt of frustration that is better directed towards simple forgetfulness or improper placement. If I've climbed my ladder only to realize that I dropped or have forgotten tools and materials. Descending to retrieve them is the worst—even from the shortest of 4-footers. Saving my body and saving time on the job keeps me more alert and allows me to work safer. Therefore, I feel proper ladder accessories go a long way in shortening tasks and increasing overall efficiency for contractors and DIYers alike. Enter Rack-A-Tiers and a few of their inventive ladder attachments poised to change your ladder from 'Frenemy' to a time-saving best buddy.  
The Ladder Mate
Of all the most useful ladder accessories, Ladder Mate spoils me and my ladder the most. In instances where my waist is up against pesky ceiling grid—causing pouch issues—this ladder caddy is perfect. It can even be popped off and go into 'tool tray mode' and be toted entirely above acoustic tile ceilings.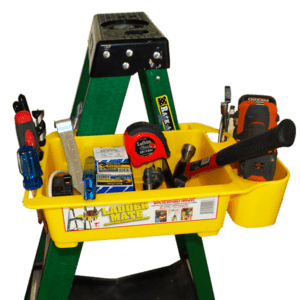 Or better yet, using it in conjunction with my pouch keeps just my tools on me and tons of fittings stuffed in the Ladder Mate. With the dividers inserted, I keep things organized, unlike those tired old tool buckets that everyone has seen. (Note to self: don't be that guy struggling to dig through a tool bucket). With the dividers out, this tool caddy far outperforms the surface area of the dishes commonly atop most ladders. Side slots easily double—or even triple—your tool staging capacity. It's an easy addition to any ladder and makes even more sense on taller ladders, reducing climb time. It is a very low-risk standard setup on shorter ladders as well. To me, the Ladder Mate is a must-have bucket tool organizer.
The StepDek
The StepDek is a ladder accessory that introduces anti-fatigue features to the average A-Frame. By making a wide ladder platform out of any rung, my boots enjoy the increased surface area. I save my body over extended time and slowly even change the way I view working on my ladders. The rubberized grip on this ladder stabilizer ensures that the safety guy is satisfied, too, but more importantly, the person using it (i.e., me) feels the luxury of more space.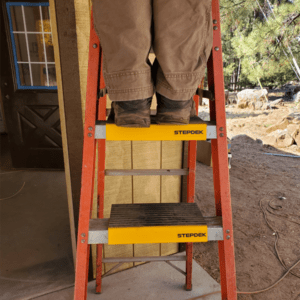 The more comfortable and confident I feel while moving around and shifting positions on the ladder, the better. It's a huge bonus knowing I have a large, rubberized platform beneath my feet. I don't have to feel restricted or distract myself thinking about foot placement in windy or wet conditions. IMO, it excels at the 'around the house' ladder enhancement for home projects and DIYing. So lightweight and solid, it does its job perfectly. And frankly, it is hard to imagine any issues someone may have with this clever stabilizing platform. Tradesmen often make the mistake of thinking that there's no reason to improve what already works. However, while improving upon a design as timeless as a ladder seems unthinkable, the reality is that expanding its functionality gives you a level of comfort and an edge over anyone not using a StepDek. I never knew a ladder rung could feel this stable!  
Extra Tip for Working on A Lift
While working on a 2-man scissor lift, a seasoned journeyman told me that seconds add up to minutes and minutes add up to hours. This mantra is proven true in spades when using the Aerial Tool Bin. Deep compartments ensure that I've got everything I need for the tasks. The corner construction produces a minimal footprint, keeping it out of the way while still within reach.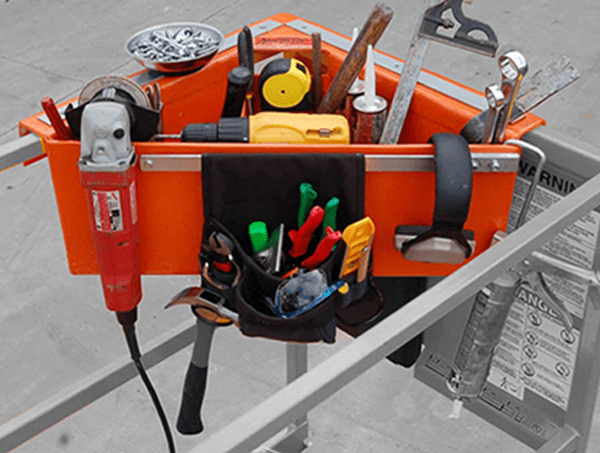 I've even reached into it blindly and been rewarded with the fitting I needed. Its rugged feel is obvious, and it is smartly equipped with metallic bars for belts and magnetic accessories. I've even seen some lifts outfitted with two of these before. On that same job site, I saw lighting installers stroll onto the scene with a couple of these and I knew they were all business. More importantly, it reflected the fact that they valued their time and took pride in how they worked. There's a simplicity about this caddy that should earn it a spot in every job with a lift. Clearly, this accessory deserves more than just an honorable mention.  
Conclusion
Everything in life can be enhanced…everything. That is especially true of both tools and work. Neglect your ladder and you may regret it. Take care of your tools and they will take care of you. These ladder accessories improve workflow, increase safety, and help elevate the way I use even the most common tools. Visually none of them are exactly show-stoppers. But, functionally, they kind of are. I can't ever go back. Each of these ladder attachments is portable, lightweight, and has no moving parts. They are so intuitive to use that they can easily transform a decent job into an excellent job by way of maximizing efficiency, organization, and energy. By dialing in on the ergonomics of my ladder usage, I can gain the upper hand on high work, reduce my climbing time, and lighten my body weight on the platforms. In conclusion, I've decided that my ladders are neither friend nor foe. But one thing is certain, ladder accessories like these will undoubtedly step up my game (no pun intended)!