Blog
15 Unique Father's Day Gifts for Electricians in 2023
Andrew Kirves
Posted on 25th May 2023
Father's Day is coming up fast and if you're like me you want to find the perfect Father's Day gift. Maybe you're wary of cliche gift cards, maybe he's the dad who has everything, or maybe you're just tired of buying him socks and ties. Is your father a hardworking electrician? He deserves something that he will use and will make his job a little bit easier. Where do you start? Fear no more, Rack-A-Tiers has you covered with the perfect gifts for electricians. Let's look at some of the top contenders for Father's Day this year. 
Stud Ball Magnetic Stud Finder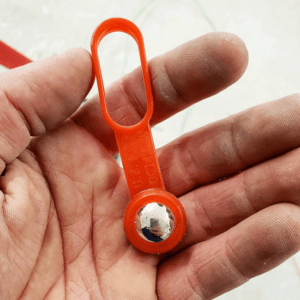 First up, let's look at the Stud Ball Magnetic Stud Finder. This is a must-have tool for home and an awesome pocket tool for electricians. It's a super strong magnet on a finger lanyard. It's designed to find nails or screws in wall studs behind almost any material like drywall or tile. Normally this process is slow and tedious, but the Stud Ball saves time and energy. Your dad can even use it to catch metal shavings. This is a great gift for electricians that do a lot of residential work, whether service calls or new construction. The Stud Ball has solid construction, plus over a thousand great reviews on Amazon and Rack-A-Tier's site.  
Check out the Stud Ball
Croc's Needle Nose Wire Strippers: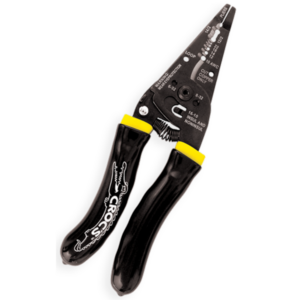 When it comes to wire strippers, my absolute favorites are the Crocs Needle-Nose Wire Strippers from Rack-A-Tiers. These strippers have consistently proven their value over time. Not only are they durable, but they also offer a comfortable grip, ensuring that my hands don't get tired even during long hours on the job. 
What distinguishes these wire strippers is their impressive array of features that make them incredibly easy to use. The needle-nose design enables precise and accurate stripping, even in tight spaces. With their ergonomic handles perfectly fitting my hands, I have complete control and minimize the risk of accidental slips or errors. 
Check out the Croc's
Sharp Pog Multi-Tool Blade Sharpener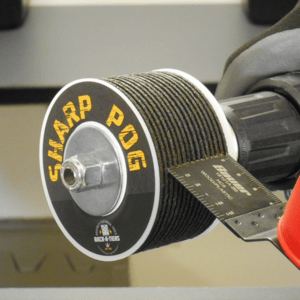 Next up is the Sharp Pog. This is a unique tool gift your dad could use. Many electricians use an oscillating tool for making precision cuts, but the blades the tool uses dull quickly. The Sharp Pog is a small tool for sharpening those blades. You attach it to a drill and spin it, and then press the blade against the sharpening tines, cutting the worn-out serrations back into the blade. I have had plenty of times I could've used this nifty blade sharpener in the past. It's designed to save your electrician dad money and time buying new blades.  
Check out the Sharp Pog
Open Splice Junction box: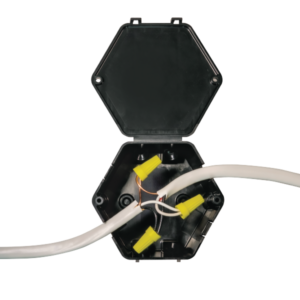 Introducing the Open Splice Junction Box—a game-changer. No more outdated, time-consuming methods for handling open wire splices. This incredible tool encloses wire splices in a durable junction box, bringing them up to code effortlessly. Say goodbye to rewiring hassles. If you're searching for the perfect gift to streamline the open splice repair process and maximize efficiency for a residential electrician, look no further than the Open Splice Junction Box. Once you experience its unmatched versatility and efficiency, you'll never want to return to the old ways. Get ready to elevate your electrical work to new heights! 
Check out the Open Splice
Staple Shark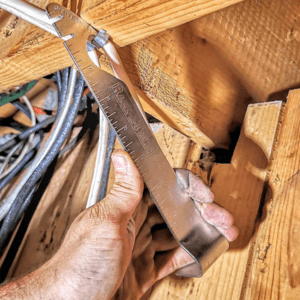 One of my favorite tools is the Staple Shark. This small steel bar is designed with the residential electrician in mind. It holds wire staples safely for driving into wood, it removes old staples when demoing old wiring, and can even pull nails with the pry bar end. I have personally wished for a tool like this countless times. Wire staples can be a huge pain to install and who wants to risk damaging wires when removing staples? Save your dad some heartache and get him a Staple Shark, a must-have tool for electricians.  
Check out the Staple Shark
Bend-All Cable Bender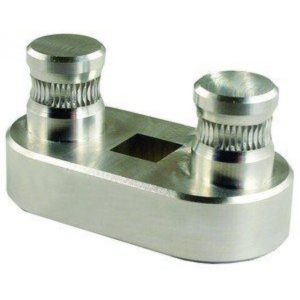 Another personal favorite is the Bend-All. This small block of machined aluminum has two small posts and is meant for helping your electrician dad bend large wires in tight spaces. Electricians often pull large wires, especially those in the industrial sector. The Bend-All helps gain leverage on that large, stubborn wire that will otherwise put a strain on the body. It's a widely loved and well-reviewed tool and solves a problem that has existed for years. Developed as a small alternative to a larger tool already on the market, it's a perfect Father's Day gift for your electrician dad.  
Check out the Bend-All
Chip Catcher: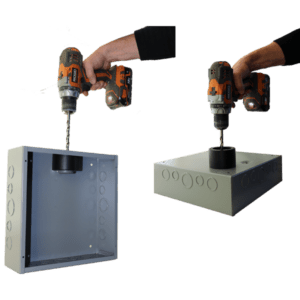 When drilling panels or metal boxes, electricians unanimously agree on two things: metal shavings are a pain to clean up and leaving them behind can lead to major problems. That's where the Chip Catcher comes in, tackling the issue of collecting metal shavings in its unique way. This handy tool attaches to any metal surface using Rare Earth Magnets, effortlessly gathering the chips as they fall during drilling. Once you've finished, simply push the center disk forward to release the collected shavings into the trash. The Chip Catcher ensures a tidy work area, prevents potential complications, and saves you time and effort. Make your dad's work easier with this innovative tool, bid farewell to the hassle of cleaning up metal shavings, and keep your projects running smoothly. 
Check out the Chip Catcher
Kick Wedge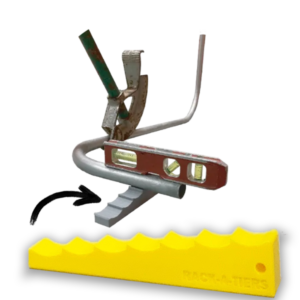 The next gadget to consider is the Kick Wedge. This unique tool gift is perfect for commercial and industrial electricians. Geared towards electricians that bend a lot of conduit, this is a great gift for young electricians who are still learning the ropes. It's simple to use, lightweight, easy to store and makes leveling out conduit bends a breeze. Conduit bending can require a lot of bending over or working on the floor, and the Kick Wedge helps here too by getting the conduit off the ground and easier to manage and measure. The Kick Wedge is a great Father's Day gift for the man who has everything.
Check out the Kick Wedge
Nut Blaster: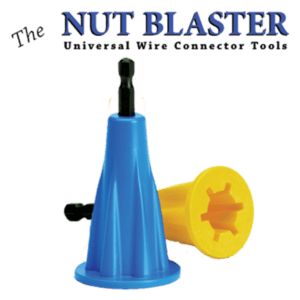 The Nut Blaster makes tightening wire nuts a breeze. Instead of spending hours tightening wire nuts by hand, just attach this wire connector socket to any standard drill and tighten your wire in seconds. Save yourself the pain of carpal tunnel and wasted time by using this small tool to turn a tedious job into something you'll finish in no time. 
This tool is small and fits into any tool bag, making it the perfect gift for electricians. They'll be thanking you the next time they have to tighten wire nuts because you gave them the perfect solution. 
The Nut Blaster comes in 2 sizes: XL for residential-sized wires, and XXL for even larger jobs. Having both will make sure you're covered no matter what type of work you're doing that day. Increase your productivity and prevent hand pain with the Nut Blaster. 
Check out the Nut Blaster
Ladder Mate: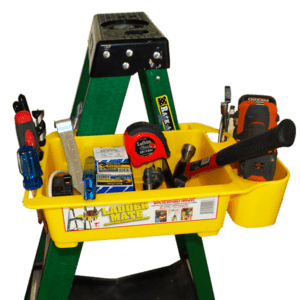 Ladder Mate is the ultimate ladder accessory, greatly enhancing my ladder experience. When dealing with tight spaces near ceiling grids that hinder my pouch, this ladder caddy saves the day. It can be detached and transformed into a convenient tool tray for acoustic tile ceilings. By combining it with my pouch, I can keep tools on my person and fittings in Ladder Mate. With dividers, everything stays organized, unlike worn-out tool buckets. The caddy offers more surface area than ladder-top dishes, allowing easy tool staging using the side slots. It's a simple yet invaluable addition to any ladder, reducing climbing time and suiting both tall and short ladders. For me, Ladder Mate is a must-have tool organizer and a perfect gift for electricians. 
Check out the Kick Wedge
Clip Whacker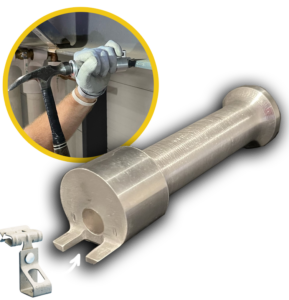 Moving on, we arrive at the Clip Whacker. A simple name for a simple tool that fixes a simple problem. Industrial and commercial electricians often must drive clips onto beams or columns. Much like wire staples, these clips are stiff and difficult to hold and drive. The Clip Whacker is a unique tool with a magnet and fingers built for holding these clips. It gives the electrician a place to hammer and lessens the risk of injured hands. The Clip Whacker is a hot new gadget for which your electrician dad will thank you.  
Check out the Clip Whacker
Driller's Dust Bowl: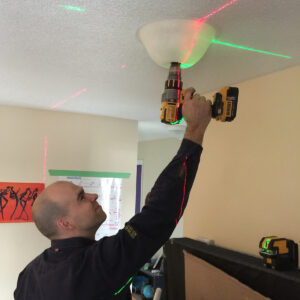 Say goodbye to dusty messes and hello to a clean workspace with the Drillers Dust Bowl! This innovative accessory attaches effortlessly to your drill, creating a shield that traps dust and debris as you drill. No more sneezing fits or tedious cleanup sessions! Compatible with most standard drill sizes, it's a breeze to install. The transparent design allows you to watch your progress without any obstructions. Whether you're drilling into drywall, wood, or any other surface, this handy device will revolutionize your DIY experience. Experience hassle-free drilling and keep your lungs happy and clean with the Drillers Dust Bowl! 
Check out the Driller's Dust Bowl
SolderM8 Soldering Clip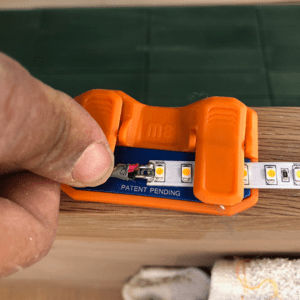 Finally, a gift for the dad who has everything, the SolderM8. This small, sturdy tool helps you connect LED light strips to wires or other light strips. Electricians occasionally need to solder connections, which is like welding but on a much smaller scale. Soldering requires both hands, and a tool for holding the material to be soldered is a must. If your dad works on appliances or lights or does a lot of residential work, this small tool is a perfect gift. The SolderM8 is well-reviewed on Amazon and Rack-A-Tier's website.  
Check out the SolderM8
Racky Bit Rough-In Kit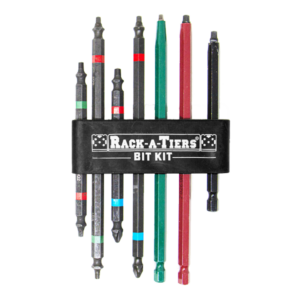 This game-changing kit is here to revolutionize your drilling experience. Say goodbye to frustration and guesswork because with this kit, tackling any drilling challenge becomes a breeze. Plus, the bits come in different colors, making it effortless to locate the right size, even if your toolbox is a chaotic mess (no judgment here, we promise). 
Whether you're a seasoned pro or just starting out, this kit will be your new best friend. Bid farewell to struggles and get ready to rock and roll with Rack-A-Tiers. Trust us, your drilling adventures will never be the same again! 
Check out the Rough-In Kit
Black and Charcoal Patch Hat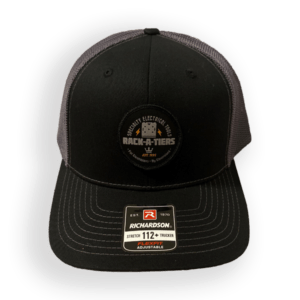 If you're on the lookout for a stylish and functional hat, look no further than the Black and Charcoal Patch Hat from Rack-A-Tiers. This hat is designed to provide both comfort and a trendy appearance. The classic black and charcoal color scheme makes it versatile and suitable for any occasion. With its adjustable strap, the hat can be easily customized to fit your head perfectly.  
Whether you're working on a construction site or simply enjoying outdoor activities, this hat offers protection from the sun while keeping you cool and comfortable. The high-quality patch on the front adds a touch of personality. Made from durable materials, this hat is built to last, ensuring that it will go with you on all your adventures. Stay stylish and protected with the Black and Charcoal Patch Hat from Rack-A-Tiers. 
Check out the Rack-A-Tiers Patch Hat
Gifts for Electricians
If these different items are overwhelming, don't worry. If you're unsure which option to choose, ask your electrician dad what kind of work he does. Industrial work, like in factories and power plants, is a different ballgame than commercial and residential work and calls for different specialty tools. Asking him will help you narrow down your selection and give him a valuable gift. Don't forget to browse Rack-A-Tiers' website for other good gifts for electricians. Regardless of your choice, the electrician dad in your life will thank you for thinking of him.  
View All Rack-A-Tiers Best Selling Products